C4U-TRTH2350 Long distance Point to Point 5Ghz OFDM-TDMA Link with over 44Mbps on 30km, 40Mbps on 60km, 25Mbps on 80km LOS Near-LOS Solution



Click to enlarge

Price:

$3,400.00

$3,200.00

Availability:
In Stock
Model:
C4U-TRTH2350
Manufacturer:
TRAS
Average Rating:
Not Rated



C4U-TRTH2350 Long distance Point to Point 5Ghz 3W OFDM-TDMA Link with over 44Mbps on 30km, 40Mbps on 60km, 25Mbps on 80km LOS and Near-LOS Solution
TRTH2350-34 is a 5GHz 3Watts (with 5GHz OFDM balanced-Amp technology) high capacity OFDM-TDMA outdoor radio for Ultra - long distance (Max Distance > 80Km) PTP/PTMP backhaul solution. 5/10/20/40 MHz adjustable channel bandwidth provides the flexibility of deployment channel plan or high capacity backhaul, and variable capacities for different applications --- the highest truly accumulated throughput(uplink +downlink) is up to 50Mbps. It utilizes TDD (TDMA) technology which allowing the balanced uplink / downlink tunnels on a single channel. This radio is primarily designed to provide standard Ethernet interface in a wireless link between distant sites. TRTH2350-34 series has powerful security mechanism - Except the proprietary protocol, it also supports WEP-128 bits and AES-256 bits encryption. All these functions make the network much more secure and reliable.Fractional bandwidth 5/10/20/40MHz

Time-Division Multiple Access (TDMA)
5GHz 3 Watts Long Distance Backhaul
5GHz OFDM Balanced-Amp Tech
IP-68 Water & Dust Resistant
IEC61000-4-5 Surge Protection
Outstanding MTBF
Max Distance > 80KM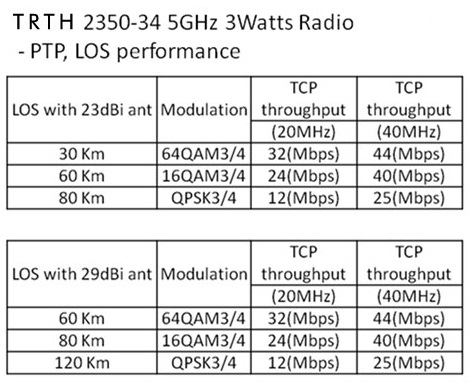 NOLS and Near-LOS coverage has many different situation and depends on the environment...
Applications:
High capacity backhaul in long distances LOS and Near LOS
5/10/20/40MHz adjustable channel bandwidth
Cost effective alternative to wired network environment
Redundant link between buildings
Dedicated ISP connections for high-reliability subscribers
Enterprises or Institutions LAN and PBX extension

Product Highlights:
5GHz OFDM Balanced-Amp Technology : TRTH2350-34 has best performance with up to 3Watts output power based on 5GHz OFDM balanced-Amp technology, and that makes TRTH2350-34 to be the most cost effective 5GHz Ultra-long distance outdoor backhaul solution.
Time-Division Multiple Access(TDMA) technique: TDMA tech can avoid the packets collision and send the packets more efficient and stable to improve the capacity and quality of data transmission in long distance (Max distance > 80Km) or NLOS (Near/ Non-Line of sight) situation.
Effective spectrum utility / variable capacities : TRTH2350-34 has 4 channel bandwidths (5/10/20/40 MHz) for optional, which is adjustable via software. This function provides flexibilities of channel plan and variable capacities for different applications
Low EIRP for long distance and high capacity transmission: TRTH2350-34 improves the throughput performance up to 50~70% in long distance transmission, that means the system has the same performance with lower EIRP (smaller antenna) compare to other standard wifi products.
Proprietary Security : TRTH2350-34 uses proprietary protocol, so it can't connect to other standard wifi products. It also provides WEP-128 bits and AES-256 bits to build the highest security mechanism to prevent the malicious attacking from the internet.
Antenna Alignment :The site survey function provides the RSSI (signal strength) info to indicate the status of antenna alignment.
Standard package and ordering Information for Point to Point link C4U-TRTH2350 :
2 x TRTH2350-34 Outdoor radio
2 x TRANT5023-P 5.1~5.9GHz 23dBi V:7degrees / H:7 degrees directional panel antenna
2 x 1M RF jumper cable
2 x 48VDC Passive PoE Injector
2 x M25 Waterproof connector for SFTP cable
2 x Pole / Wall Stainless Steel mounting bracket Kit
2 x Power cord and 48VDC power adaptor
2 x Water-resistant adhesive tape
2 x Quick installation guide
2 x Installation CD

1 Year warranty – Original made in Taiwan
R&R GROUP INTERNATIONAL
Taipei Taiwan, Hong Kong, Dubai UAE
E-mail: [email protected]
http://www.shop-wifi.com
Write Review
Your Name:
Your Review:
Note:

HTML is not translated!
Rating:
Bad
Good
Enter the code in the box below:
There are no additional images for this product.